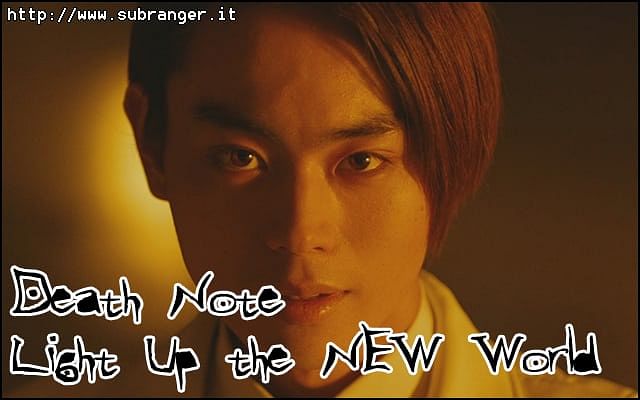 Ed eccovi una bella sorpresa da parte nostra! Death Note: Light Up The NEW World è il sequel dei due film giapponesi live action su Death Note usciti molti anni fa. Questi film erano finiti in maniera un po' diversa rispetto al manga e all'anime, e il confronto finale fu fra Light e L, tagliando così l'arco narrativo di Near e Mello. Questo film narra una storia originale, ambientata 10 anni dopo la morte di Light. Che fine ha fatto Misa? Ryuk è davvero intenzionato a porre fine al suo divertimento? E i Death Note sono proprio spariti del tutto dalla Terra? Trovate le risposte in questo film!
Death Note: Light Up The NEW World
EDIT: LICENZIATO SU VVVVID – I link torneranno se e quando cadranno i diritti
Già che ci siamo vi ricordiamo che potete continuare a seguirci con tanti altri film (Phoenix Wright, Kenshin, As the Gods Will, Kiseiju, ecc.) e con le fantastiche serie Super Sentai e Kamen Rider qui sul nostro sito. Vi invitiamo a venire sulla nostra pagina Facebook per leggere le nostre news e seguire i nostri deliri commentando insieme a noi, e ad unirvi al nostro canale Discord se volete fare una chiacchierata.